3D Screensaver and Picture of Stegosaurus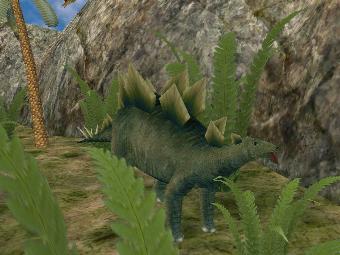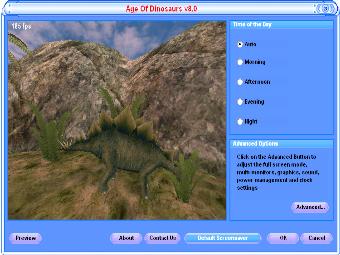 Stegosaurus measured up to 8-9 m long, about 2.75 m tall, and weighed about 3100 kg. Its small brain was only the size of a walnut (70 - 80 grams). Dinosaur's skull was long and narrow; it had a toothless beak and small cheek teeth. Its head was carried close to the ground, probably no more than 1 m high. Dinosaur had 17 bony plates that were embedded in its back. The plates were made of bone, which was not solid, but was filled, with tube-like tunnels. Stegosaurus also had tail spikes at the end of its flexible tail. These spikes were up to 1.2 m long and were used for protection from predators. Dinosaur's rear legs were longer and straighter than its front legs, which sprawled out to the sides.
Age of Dinosaurs 3D includes the animated Stegosaurus and other popular dinosaurs. Click on the link below to learn more about the Age of Dinosaurs 3D Screensaver, If you want to turn your computer monitor into a virtual dinosaur world.
More 3D Dinosaur Screensavers with Moving 3D Dinosaurs
Click on one of the links below to learn more about animated dinosaurs from Age of Dinosaurs 3D Screensaver.
With Age of Dinosaurs 3D, you can set the great mood, delivering a virtual world of most popular dinosaurs directly to your computer screen!