3D Fish School Screensaver Free Aquarium Tank Windows 10 Download
Download free 3D Fish School Screensaver for Windows 10 with 4k aquarium fish swimming in a freshwater fishtank and a saltwater aquarium tank, then customize cool 3D aquarium backgrounds and now you have transformed your computer desktop into one of the most realistic tropical fish tank screensavers. Free aquarium download is available for Windows 10/7/8/Vista/XP.
Benefits one of the Best Free Fish Tank Screensavers for Windows 10
Enjoy virtual free fish tank, both freshwater and saltwater 3D aquariums.
Get unbelievable underwater impressions without the burden of the real aquarium.
Add new dimension to the aquarium background ambience with 3D fish tank.
Create calmness in your mind with underwater 3D animated aquarium backgrounds.
Observe up to 100 gently swimming fish on computer screen at the same time.
Choose from popular free saltwater fish wallpapers, species + planktons + starfish.
Choose from your favorite free freshwater fish backgrounds and species.
Can be used as moving aquarium screensaver for desktop of Windows 10/7/Vista/XP.
Keep track of time with digital clock and calendar.
Display a big animated fish tank on dual monitor or plasma TV.
Get more free 3D aquarium fishes for new screensaver free updates.
Aquatic Experience of Free Aquarium Fish Screensaver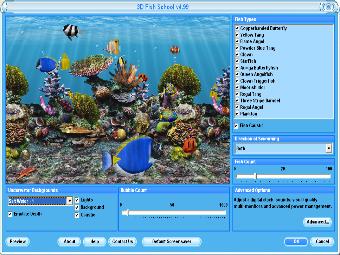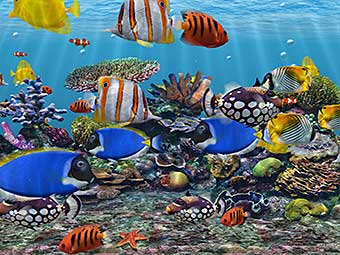 Free 3D screensaver features the school of tropical fish moving among 3D animated free aquarium backgrounds including the coral reefs, underwater plants, floating bubbles and light rays. What could be better than the tranquil beauty of 4k aquarium fish tank full of colorful tropical fish which swim slowly back and forth in front of your eyes?
With free virtual fish tank screensaver, you can now have an illusion of a real aquarium without the worry of taking care of the fish. You never have to watch the same 3D aquarium screensaver twice! Underwater 4k aquarium environment is completely different, all the fishes and bubbles are calculated every time in 3D.
With multiple options, you can choose from a wide range saltwater and freshwater tropical fish tanks, adjust a number of swimming fish and way they swim in the 3d screensaver. Animated underwater backgrounds and lights, together with the free floating bubbles and soothing underwater sounds (one sea surf sound, and one bubbling water sound), create the perfect atmosphere for social and romantic occasions or simply while relaxing at home.
Ideal for everyday enjoyment or entertainment, looks better than the best HD free aquarium video!
Options of Saltwater Fish Aquarium
Marine settings of aquarium screensaver include many popular saltwater fish varieties from every ocean of the world. For anyone who has expressed an interest in recreating undersea enviroments in the home or office. Free 3D Fish Tank Wallpapers include:
Moorish Idol
Clown Triggerfish
Queen Angelfish
Auriga Butterflyfish
Copperbanded Butterflyfish
Yellow Tang
Blue Tang
Flame Angel
Clownfish
Regal Tang
Three Stripe Damselfish
Regal Angel
Options of Freshwater Fish Aquarium
Many of the best freshwater fish that are commonly seen in fresh water are included in this aquarium screensaver. Free 3D Fish Tank Wallpapers include:
Angelfish
Discus
Rainbow Shark
Vieja Fenestratus
Mylochromis Lateristriga Mchuse
Oreochromis Tanganyikae
Tiger Barb
Red Oscar
Melanotaenia Duboulayi
Mikrogeophagus Ramirezi
Red Platy
Digital Aquarium Clock and Calendar
Time is at the core of your business, and tracking it is critical. The digital clock with calendar offers the perfect way to know actual time and will help you track your time easily and accurately. It displays current year, month, day, hours and minutes. You can select from 12/24 hour mode and adjust color of digital clock and calendar.
Windows Requirements for Moving Fish Aquarium Software
This 3D animated aquarium screensaver works under Microsoft Windows 10, Windows 7, Windows XP and Windows Vista (32 bit and 64 bit). You can try 3D aquarium software before you buy it, free downloading the demo version. A small screen saver download size makes it an easy install to your computer. If you want to run the Windows screensaver on your PC, here is what it takes:
Microsoft Windows 10/XP/Vista/7
Graphics card with OpenGL 1.2 or DirectX 9
1 GHz or faster 32-bit or 64-bit Processor
10 Mb available disk space
Stereo sound card
Free Fish Updates and Screensaver Full Benefits
The more free fish screensavers are available for minor updates of 3D software. When you buy, full version can be free downloaded immediately. A small file size makes it an easy download to your computer desktop. Our ecommerce providers ensures that you get your full version as soon as possible, making purchase based on your own familiar currency and payment method.

Enjoy the Benefits of the Full Version Now!
25 realistic tropical fishes swim among swaying plants and corals in bubbling fishtank
Adds 6 realistic animated aquarium desktop backgrounds
Adds new animated underwater backgrounds
Lets you save the customized settings
Removes any limitations of the demo version
Lets you get a optional backup CD-ROM (you can choose this option on order form)
Provides a free 3D aquarium screen saver technical support
Lets you get a life time license for the version you buy without any annual payments
Customers Who Bought Fish Screen Savers Software Also Bought