Perfect Fire Screensaver
Download Perfect Fire Screensaver with realistic animated flames and crackling sound, then adjust the 3D flame color and burning rate and your computer screen or widescreen plasma TV will add cozy ambience of perfect burning fire at your home or office without the burden of the real fireplace. Free download and try one of the best virtual fire screen savers.
Benefits of 3D Fire Screen Saver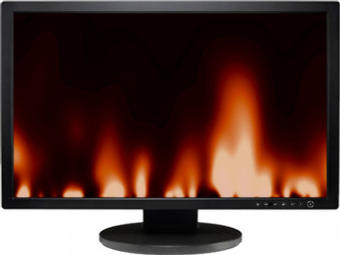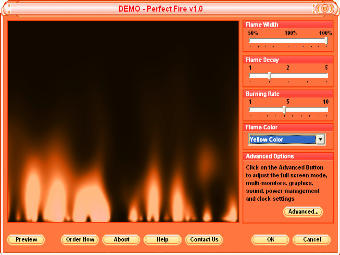 3D Fire Screen Saver is never fill a room with smoke and burn out, so now there is an easy way for you to add a touch of warmth and beauty to any room without becoming a burden. Watching the perfect moving fire is calming and really, quite pleasant even if it's a computer animated fire. Together with snap, crackle, and pop of 3D fire sound, it creates a very cozy ambience for relaxation. Just sit back, and let the flickering flames relax you. If you want to turn your computer into an awesome, realistic roaring fire place complete with crackling sounds, for adding the cozy fire to holiday gatherings, you are on right way. The virtual fire provides genuine flame realism and looks better than the real HD video or DVD!
Extensive customization options of animated fire flames are extremely easy to operate. Download fire screen saver, customize the 3D flames options and view result instantly. You can adjust the moving flame animation from roaring fire to glowing embers, choose from different flames colors and adjust virtual flame width and hight to be compatible with any wide screen monitor or TV. Your laptop or notebook will work longer with advanced power management options. The virtual screen saver includes animated digital clock with time and calendar and offers the perfect way to know actual time. The digital clock displays current year, month, day, hours and minutes in 12/24 hour mode and different colors.
System Requirements for MAC OS, Ubuntu and Windows Screen Savers
Before you want to buy Perfect Fire Screen Saver, you can download a free demo version for Windows 10, MAC OS X, Ubuntu. If you want to install the free 3D screen saver on your PC, here is what it takes:
MAC OS X, Ubuntu or Microsoft Windows 10/8/7/Vista/XP
Graphics card with OpenGL 1.2 or DirectX 9
1 GHz or faster 32-bit or 64-bit Processor
10 Mb available free disk space
Stereo sound card
Screen Saver Free Updates and Full Version Benefits
The screensaver free updates are available for minor versions of Perfect Fire. When you buy, full version of 3D animated screen saver can be downloaded immediately. Our ecommerce providers ensures that you get your full version as soon as possible, making purchase based on your own familiar currency and payment method. A small file size makes it an easy download to your computer. If you buy now you will be enjoying all the benefits of the full version within minutes!

Benefits of the Full Version:
Removes any limitations of the free fire demo version
Adds new Perfectly animated fire backgrounds for free (minor upgrades)
Lets you save the customized settings of the program
Lets you get a optional backup CD-ROM (you can choose this option on order form)
Provides a free technical support for computer software you buy
Lets you get a life time license for the version you buy without any annual payments
Customers Who Bought Perfect Fire Screen Savers Software Also Bought