3D Realistic Fireplace Screensaver Windows 10 Free Download
Free 3D Realistic Fireplace Screensaver for Windows 10 computer screen or widescreen TV brings the romantic fieplace ambience of a burning fireplace logs. Flickering fireplace sparks with crackling fireplace sound create a cozy fireplace environment in your living room or office. Try one of the best animated virtual fireplace screen savers. Free screensaver download available for Windows 10.
The Best Fireplace Benefits
Transform your Windows desktop into a log fireplace for romantic comfort without the burden of a living fireplace
Create a relaxing mood after a long day of work in the cozy fireplace ambience made of 3D animated logs
You can keep track of the time with a modern fireplace clock and calendar
The small size makes easy download fireplace onto your computer desktop
You can free download and free evaluate this 3d fire Screensaver
Can be used as 3D screensaver with sound for Windows 10/8/7/XP desktop
Free customize animated fireplace settings, it is not a HD fireplace youtube video screensaver
Get free fireplace backgrounds for modern screensaver updates
Overview 3D Realistic Fireplace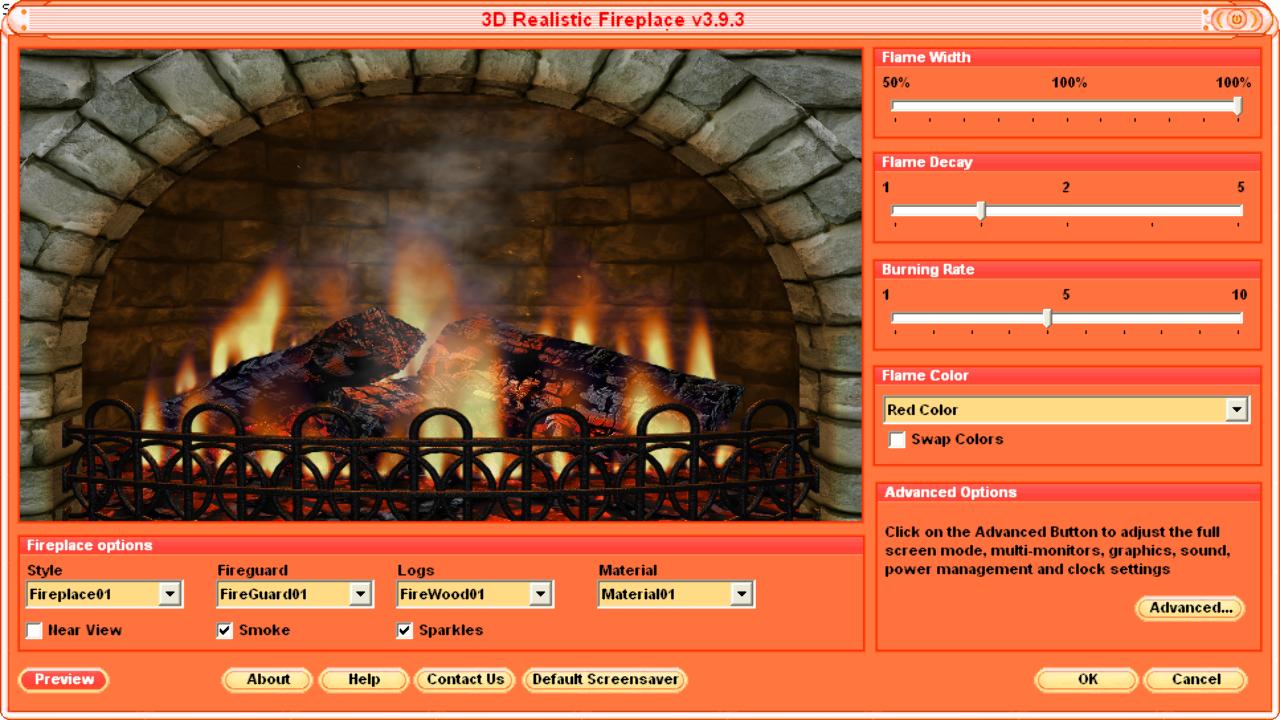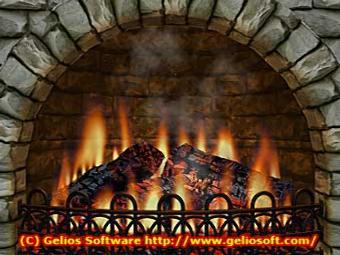 Moving fireplace provides an unmatched elegant look of a wood burning fireplace and supply romantic charm and cozy comfort to your living room or modern office year round. You can have the warmth, ambiance and romance of a real fireplace, wherever and whenever you want.
The moving fire Screensaver settings includes many pc fireplace options for your customization. You can choose from several burning logs, styles, materials and fireguards. The fire controls allows you to adjust the color, width and height of moving flame animation from roaring fire to glowing embers.
You will hear real sounds of the snap, crackle, and pop of a roaring fire. The realistic sound effects from the burning logs are very soothing and create a very cozy background ambience.
Together with the flickering fireplace sparkles and moving smoke, it creates the perfect atmosphere for social and romantic occasions. In the warm glow of the firelight, you recreate the atmosphere of those memorable gatherings around the real camp fire.
Time is at the core of your business, and tracking it is critical. Free 3D clock will help you track your time easily and accurately. The digital screen saver clock displays current year, month, day, hours and minutes. You can select from 12/24 hour mode and adjust color of digital clock and calendar.
Ideal for everyday enjoyment or entertainment, this 3D fireplace looks better than the real fireplace video or fireplace DVD!
Requirements for Windows Fireplace App
This 3D animated screen saver software works under Windows 10. The free fireplace demo allows you to try it before you buy. A small screen saver download size makes it an easy install to your computer. If you want to animate desktop background of your PC, here is what 3D screen saver takes:
Microsoft Windows 10/8/7/XP download
Graphics card with OpenGL 1.2 or DirectX 9
1 GHz or faster 32-bit or 64-bit Processor
10 Mb available free disk space
Stereo sound card
Free Screensaver Fireplace Updates and Full Version Benefits
When you buy, full version of realistic fireplace 3D screen saver can be downloaded immediately. A small file size makes it an easy download to your computer desktop. Our ecommerce providers ensures that you get your full version as soon as possible, making purchase based on your own familiar currency and payment method.

Enjoy the Benefits of the Full Version Now!
Removes any limitations of the free fireplace demo version
Adds 2 animated wood burning logs
Adds 3 hearths styles
Adds 7 natural materials
Adds 6 unique fireguards
Adds new animated fireplace backgrounds for free (minor upgrades)
Lets you save the customized settings of the program
Lets you get a optional backup CD-ROM (you can choose this option on order form)
Provides a free technical support for computer software you buy
Lets you get a life time license for the version you buy without any annual payments
Customers Who Bought 3D Fireplace Screen Savers Software Also Bought