Christmas Fireplace Screensaver
This free 3D Christmas screensaver displays a Christmas fireplace with music on your Windows desktop background and replaces any expensive real fireplaces, but it offers the same comfortable ambience in your beautifully decorated Christmas living room. A free Christmas fireplace screensaver download is available for Windows 10 7/8/Vista/XP.
Christmas Fireplace 3D Benefits
Holiday 3D Screensaver. Enhance your holiday background ambience in your living room with moving Christmas fireplace
Comfort of Real Fireplace. Create the warm, cozy feeling of a roaring fire without the burden of the real fireplace
Realistic Animation. Customize animated screensaver options to feel like you are experiencing the real thing
Relaxing Music and Sounds. Relax with crackling sound of burning wood logs and Christmas music
Digital Clock. Time options allow you to keep track of time with additional digital clock and calendar
Run on Most Computers. Get the maximum quality on your laptop or office computer screen
Widescreen Support. Always fills your entire screen. Displays in standard 4:3 screen or 16:9 widescreen
Multi-Monitors. Displays animated desktop background on 2 monitor or 3 monitor systems and plasma TV set
Save More Power. Your laptop or notebook will work longer with advanced power management options
Windows 10 7/8/Vista/XP Compatible. Designed to be used as Christmas fireplace for all versions Windows
Easy Download. A small file size makes it an easy download to your computer
Moving Christmas Fireplace Overview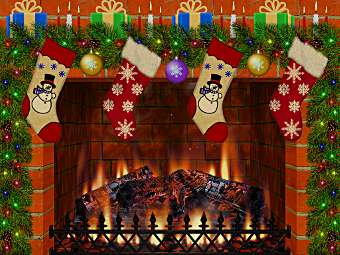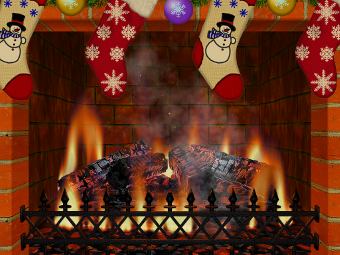 When Christmas holiday comes, it brings along love, fun and merriment. We start decorating our houses, buying gifts and selecting the perfect Christmas tree. However, most of us tend to ignore the fireplace. Since Christmas comes during harsh winters, the fireplace is a great way to create the warm, cozy feeling of a roaring fire in your living room. If you do not have a fireplace, but you have always wanted one. So why not use your computer to add it to your holiday decorations?
Experience the magical ambience of a real glowing fireplace that is sure to warm up any room. The area around the 3D fireplace is elegantly decorated for Christmas. The authentic crackling sound will make you feel like you are experiencing the real thing minus the heat. This Christmas 3D screensaver comes with controls that allow you to adjust the flame ambience from roaring flames to glowing embers. It is vibrant, lively, and stimulating.
Great for anyone who celebrates Christmas or who appreciates the colder months of the year. Christmas never looked so good! Highly recommended!
Christmas Fireplace 3D Requirements for Windows Software
This 3D Christmas Fireplace software works under Windows 10 7/8, Windows XP and Windows Vista (32 bit and 64 bit). The free Christmas Fireplace demo allows you to try it before you buy. A small screensaver download size makes it an easy install to your computer. If you want to run the 3D screensaver on your PC, here is what it takes:
Microsoft Windows 10 XP/Vista/7/8
Graphics card with OpenGL 1.2 or DirectX 9
1 GHz or faster 32-bit or 64-bit Processor
10 Mb available free disk space
Stereo sound card
Free Christmas Fireplace Updates and Full Version Benefits
When you buy the Christmas Fireplace, full version can be downloaded immediately. A small file size makes it an easy download to your computer desktop. Our ecommerce providers ensures that you get your full version as soon as possible, making purchase based on your own familiar currency and payment method.

Enjoy the Benefits of the Full Version Now!
Realistic Christmas Fireplace with Burning Logs, Smoke and Sparkles
Adjustable Flame options like Width, Colors and Decay
Soothing crackly fireplace sound and Jingle Bells music
Customized digital clock and digital calendar
Lets you save the customized settings of the virtual 3D screen saver.
Removes any limitations of the demo version of the free Christmas screen saver.
Lets you get a optional backup CD-ROM (you can choose this option on order form)
Provides a technical support free for the Christmas fireplace you buy
The screensaver Lets you get a life time license for the version you buy without any annual payments
Free Christmas fireplace downloads are available for minor updates of 3D screensavers
Customers Who Bought 3D Christmas Screensavers Also Bought