Underwater Bubbles Clock Screensaver Windows 10
Windows Clock Screensaver features a big underwater analog clock and moving transparent bubbles. Together with gently swimming tropical fish, this create the perfect ambience for relaxation. This one of the best 3D animated bubble screensavers is compatible with desktop and laptop computers under Microsoft Windows 10/8/7/Vista/XP 32 and 64 bit.
Benefits of A Big Clock Screensaver
Enjoy with colorful bubbles free flowing on the computer screen in 3D
Watch a big analog clock face and hands over its surface
Digital clock and calendar to keep track of current time and date
Relax with soothing visual underwater bubbles backgrounds and swimming 3D fish
Fill moving bubbles your screen both 4:3 screen standard and 16:9 widescreen
Displays animated clock on 2/3 monitors or plasma TV set
Designed to be used as animated bubbles desktop for themes of Windows 10/8/7, Vista and XP
Customize underwater clock and and view result instantly
Benefits of An Underwater Bubbles Screensaver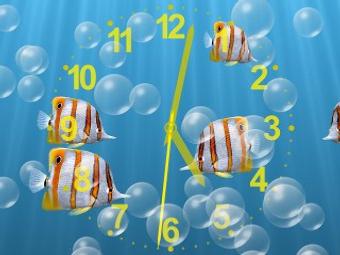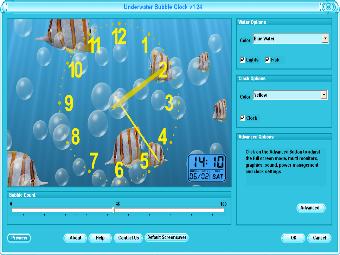 This bubbles screensaver decorates your Windows desktop by an underwater background with 3D animated bubbles, a big clock and tropical fish swimming among light rays! The soothing underwater visual effects and transparent bubbles flowing on the screen wash away the tiredness and stress of a long business day and analog 3D clock helps to know the exact time.
Every second of our life is precious. Just display additional digital clock to know current time and date and live in Present Time! When the moving bubbles rise and burst, you can hear a dulcet relaxed sound. The 3D options lets you change the color underwater clock and water and density of the animated bubbles floating on computer screen.
Raise your spirits and always know the current time!
Windows Requirements for 3D Screensaver Software
Underwater 3D Screensaver works under Windows 10, Windows XP and Windows Vista (32 bit and 64 bit). The free screensaver demo allows you to try it on your PC before you want to buy. A small screensaver download size makes it an easy install to your Windows computer. If you want to run this awesome 3D screen saver on your PC, here is what it takes:
Microsoft Windows 10/8/7/Vista/XP
Graphics card with OpenGL 1.2 or DirectX 9
1 GHz or faster 32-bit or 64-bit Processor
10 Mb available free disk space
Stereo sound card
Full Version Benefits and Screensaver Free Updates
When you buy, the full version screensaver can be downloaded immediately. A small file size makes it an easy download to your computer desktop. Our ecommerce providers ensures that you get your full version as soon as possible, making purchase based on your own familiar currency and payment method. More moving transparent bubbles and underwater 3D clocks will be available in free screen saver downloadable updates.

Enjoy the Benefits of the Full Version Screensaver Now!
Adds 7 analog clocks, 3D bubbles and animated digital fish
Free clock screensavers upgrades for minor versions
Lets you save the customized settings
Removes any limitations of 3D screen saver free demo version
Lets you get a optional backup CD-ROM (you can choose this option on order form)
Provides a technical support free for software you buy
Lets you Get a life time license for the version you buy without any annual payments
Customers Who Bought Underwater Bubbles Clock Screensaver Software Also Bought