Raising Dead Shooting 3D Arcade Game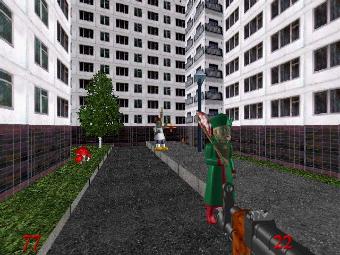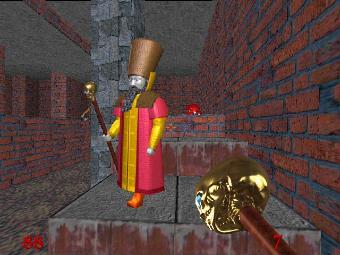 Download Playable Version of Classic Arcade Shooter and try to rescue the World from the Dead. You can play this 3D Shooting Game on your Old Computer under Windows 7/Vista/XP/2000/98/95.
PC Arcade Game Overview
The dead have come back and you have got to defeat them. Moving through cities or catacombs, you seek different types of weapons, ammo, keys and other things and try to rescue the world from the dead. Raising Dead is one of Classic Arcade Games like Doom. 3D Game contains small violence and easy control to rest! Downloading Raising Dead to your Computer, you get nice colorful 3D Graphics with a screen resolution up to 1024x768. This PC Shooter has the Auto Demo, which quickly will train you how to play.
System Requirements
Windows 7/Vista/XP/2000/98/95
DirectX 3.0 or higher
Processor Pentium 166
Memory of 32 Mb RAM
15 Mb free disk space
video accelerator with 4Mb of RAM
Shooting Arcade Game Ordering
Thank you for deciding to try our Arcade Game. This is a try-before-you-buy-software. The small demo level of Raising Dead gives you the chance to evaluate it before purchasing. You can evaluate it for free, and then you must buy the full version to get more Levels. Use our TIME LIMITED offer. If you buy NOW, you will receive Detailed Documentation with Maps of All Levels. If you want to take advantage of this incredible offer do it now, you will not have the opportunity later.
Order Now to get:
Ten large levels like Cities, Catacombs, Dungeons, and Sewerage
Enemies like Warlocks, Robbers, Axemen, Gunmen, and hungry skulls
Traps like Fires or Stakes
Things like Apples, Jugs, and Keys
Weapons like Ax, Musket, AK-47 Machine Gun, Throwing Axes, and
Wizard's Staffs
Detailed Documentation with Maps of All Levels
On payment approval, we will send you the registration code, which will unlock all limitations. You can buy our Products with your credit card via Internet, the telephone or fax order, paying by check via postal mail and the purchase order.
Customers Who Bought Raising Dead Shooting Game Also Bought