3D Fish School Aquarium DVD Screensaver for TV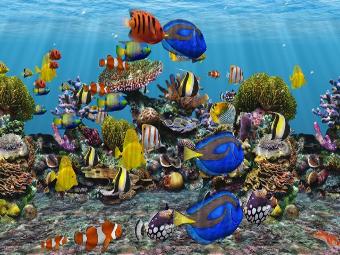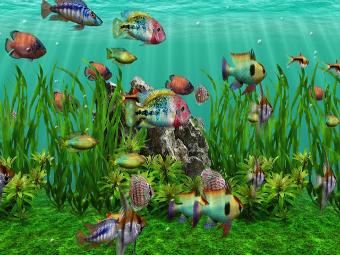 Enjoy marine and freshwater 3D aquarium HD DVD scenes in your living room by delivering relaxing tropical fish video directly to your widescreen plasma TV. 3D Fish School Aquarium DVD Screensaver provides a delightful attraction for all ages and the perfect centerpiece for any occasion. The DVD version of the 3D Fish School Screensaver is not available at this moment but you can download screensaver to your computer.
Virtual Aquarium DVD Free Overview
The video from virtual aquarium DVD delivers dozens of tropical fish free swimming among bubbles within beautiful underwater backgrounds directly to your living room! Featuring continuous hours of hi-quality 3d video these two unique marine and freshwater fish tanks can add a mood enhancing visual to any occasion.
Once played, the aquarium DVD video will loop indefinitely until the user presses stop, providing hours of entertainment and relaxation.
Digitally mastered in Dolby AC-3 audio 3D aquarium DVD offers you the option of hearing natural bubble sounds of the scene or uninterrupted soothing and soft relaxation waves.
Purchase one of the best Virtual Aquarium DVD Screensavers
Buy 3D Fish School Aquarium DVD Screensaver To Get:
A virtual animated realism of coral reef and freshwater plants
Relaxing virtual fish video loop for high-end home theater systems
Plays in widescreen, letterbox or standard TV with no stretching or distortion
Play once or loop infinitely
Choice of two audio tracks (bubbles, waves)
Region Free (Plays on ANY DVD player, anywhere in the world)
Purchase 3D Fish School Aquarium Screensaver Bundle
Buy 3D Fish School Aquarium Bundle To Get:
3D Fish School Aquarium DVD Screensaver to playback it on any DVD player
3D Fish School Screen Saver to run the screen saver on your computer
Customers Who Bought Bubbles Screen Savers Software Also Bought