3D Screensaver and Wallpaper with Regal Angel Fish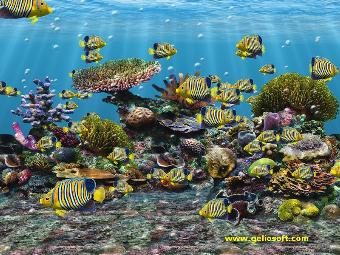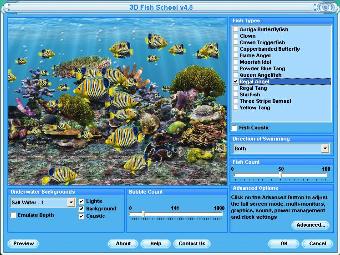 With 3D Fish Tank Screensaver, you can turn a monitor of your computer into animated Regal Angel HD aquarium fish tank. The Regal Angel Fish (Pygoplites diacanthus, Royal Angelfish, Royal Empress Angelfish) is a standard fish for marine aquariums. Enjoy and benefit from the Regal Angel 3D Fish School Screensaver without the expense of the real saltwater fish tank. It never gets boring, there is always something new to see.
Enhance your Windows with 3D Regal Angel Fish Screensaver and Animated Wallpaper
Download and install the full version of 3D Fish Screensaver. In the settings of 3D marine screensaver, click on the Regal Angel Fish name check-box. With soothing underwater backgrounds and gently moving Regal Angel 3D Fishes, you set now the perfect backdrop for a relaxing. If you want to decorate your Windows desktop with marine Regal Angel Fish 3D wallpaper, just right-click on the image above and select "Set As Wallpaper" from the drop-down menu.
More Saltwater Fish Tank Screensavers and Free Aquarium Fish Wallpapers
With Saltwater Fish Aquarium Screensaver, you can set the great mood, delivering a school of most popular tropical saltwater fish directly to your computer screen! Click on the link below to learn more about marine fish tanks and species and download free saltwater fish desktop 3D background.