3D Dragon Maze - PC Game with Jumping Pacman
3D Dragon Maze Game is an advanced version of the classic Pacman game for PC. You or your kids will explore uniquely designed challenging mazes, collect bonuses and dots, avoid traps, but you have to run and jump fast because the funny dragons are in hot pursuit of you. The high-quality 3D animation, funny sound effects and wonderful music will immerse you or your kids into attractive game world of one of the best Windows Pacman games for all ages. You and your children will like this funny dragon game. Try it for free now!
3D Dragon Maze Game - Windows Game with Funny Dragons and Jumping PacMan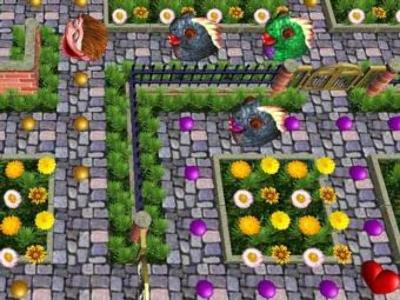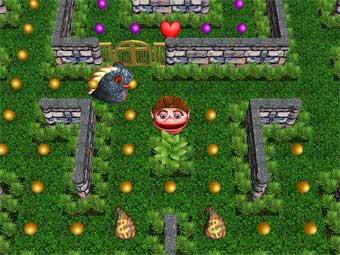 The goal of 3D Dragon Maze Game is to use the arrow keys on your computer keyboard to move 3D Pacman, who is out to eat everything in a 3D maze full of yellow and purple dots. When your 3D Pacman ate all dots, you advance to the next level.
The game becomes complicated because 3D Pacman must jump over traps and avoid the funny dragons who can pursue and kill him. Every funny dragon has uniquely behavior, including a fast or slow speed, ability to open doors and to jump over traps. You or your kids can even scare some of them to get extra purple dots or lure funny dragons to trap to kill them.
Collect bonuses to get extra points and lives. If your 3D Pacman lose all lives, the game is over. If Jumping Pacman manage to eat up one of the apples, he will gain extra power that enables you or your kids to eat funny dragons for a limited time. The keys found in the 3D maze allow your 3D Pacman to open closed gates.
This Windows maze game allows you to adjust the game speed to play for both casual players like little kids and advanced users in hard game mode. Before you begin your daily work, you can play a randomly selected level of 3D Dragon Maze Game and raise your brain or set you in a good mood. If you like play popular classic arcade games, you can free try this jumping Pac-Man PC maze game for kids.
3D Game Controls
| | |
| --- | --- |
| Arrow Keys or W,A,S,D | Movement |
| Spacebar | Jump |
| Ctrl+X | Exit |
| P or Pause | Pause |
| Esc | Quit current game |
3D Dragon Unique Features
| | |
| --- | --- |
| | Dark Dragon is slow, opens yellow doors and can jump over traps. |
| | Purple Dragon is fast, cannot open yellow doors but can jump over traps. |
| | Red Dragon is very fast, always pursues you, cannot open yellow doors and jump over traps. |
| | Green Dragon is very slow, places purple dots, cannot open yellow doors and jump over traps. |
3D Maze Game Objects
| | | |
| --- | --- | --- |
| | Yellow dot | +1 Point |
| | Purple dot | +10 Points |
| | Money bag | +1000 Points |
| | Heart | +1 Life |
| | Apple | Extra Power |
| | Trap | Trap can kill you or dragons. You need to jump over to avoid it. |
| | Blue Gate | This is an open gate. A key is not required. |
| | Yellow Gate | This is a closed gate. You need to have the yellow key to open it. |
| | Key | You can open yellow gates with this key. |
Requirements for Windows 3D Maze Game Software
This 3D Maze PC games software works under Windows 7, Windows XP and Windows Vista (32 bit and 64 bit). The free dragon maze demo allows you to try it before you buy. A small game download size makes it an easy install to your computer. If you want to run the 3D maze game on your PC, here is what it takes:
Microsoft Windows XP/Vista/7
Graphics card with OpenGL 1.2 or DirectX 9
1 GHz or faster 32-bit or 64-bit Processor
10 Mb available free disk space
Stereo sound card
Free 3D Maze Game Updates and Full Version Benefits
When you buy, full version game for PC, 3D Dragon Maze can be downloaded immediately. A small file size makes it an easy download to your computer desktop. Our ecommerce providers ensures that you get your full version as soon as possible, making purchase based on your own familiar currency and payment method. Free Maze Game Updates are available for minor versions.

Get Now:
Unlimited play with all attractive levels of jumping pacman like game
Save your high score table for each of the game mode
Get new game bonuses, music and graphics
Remove any limitations of the demo version of the 3D dragon maze game
Get free maze game updates for minor versions of software
Provide a technical support for 3D software you buy
Get a life time license for the version you buy without any annual payments