100 Happy Money Screensaver
100 Happy Money Screen Saver fills Windows desktop with million falling dollar, flying euro, raining pound and swimming franc. Download and try one of the best 3D money screen savers for free.
Key Benefits of 100 Happy Money Screen Saver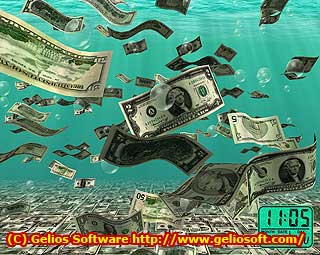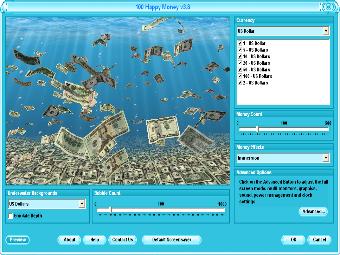 100 Happy Money screen saver brings tons of free falling money on your computer desktop background.
Get free money updates for minor versions of 3D screen saver software.
Get unbelievable happy prosperity impressions of big money.
Bring one step closer to your happy business with money flying on computer screen.
Relax with one of the best underwater money backgrounds and soothing sounds.
Make your currency screen saver, free selecting banknotes of different countries.
Keep track of time with digital clock and calendar.
Fill with free 3D currency entire widescreen, standard and dual screen desktop.
Use it as moving money desktop backgroundfor Windows 10 themes.
3D Money Features
Animated Money. Free download money falling, flying, raining and swimming on screen
Underwater Backgrouns. Animated underwater backgrounds with floating bubbles
American Dollar Bills. See as schools of US dollar bill swim to you
Euro Money. Best falling euro banknotes fill your computer screen
Pound Sterling. Brings the power of the almighty Great Britain Pound Sterling
Canadian Dollars. Decorate your Windows desktop with falling Canadian money
Australian Dollars. Enjoy with a fountain of Australian money
Switzerland Franc. Get impressions with tons of Switzerland Francs
Israeli Sheqel. Get as many Israeli Shekel falling banknotes you want
Swedish Krona. Fill your computer screen with Swedish Kroners
Animated Money Software for Windows
This animated money screen saver can be downloaded for Windows 10, XP and Vista (32 bit and 64 bit). The free demo allows you to try it before you buy. A small download size makes it an easy install on your computer. If you want to run free version of 100 Happy Money on your PC, here is what the it takes:
Microsoft Windows 10/8/7/XP/Vista
Graphics card with OpenGL 1.2 or DirectX 9
1 GHz or faster 32-bit or 64-bit Processor
10 Mb available free disk space
Stereo sound card
Free Money Updates and Full Screen Saver Benefits
You can try the free demo of money screen saver before you want to buy it. When you buy, full version can be downloaded immediately. A small file size makes the it an easy download to your computer desktop. Our ecommerce providers ensures that you get your full version as soon as possible, making purchase based on your own familiar currency and payment method. The free money upgrades are available for minor changes of software.

Enjoy the Benefits of the Full Version Now!
Adds 12 best 3D animated money backgrounds
Adds US Dollar Bills, Euro money, GB Pound, Canadian Dollar, Australian Dollar, Switzerland Franc, Israeli Sheqel, Swedish Krona
Adds Falling, Fountain and Swimming 3D software effects
Adds free money upgrades for minor screen saver versions
Includes the digital clock and calendar
Lets you save the customized settings of 3D software
Removes any limitations of the demo version
Lets you get a optional backup CD-ROM (you can choose this option on order form)
Lets you Get a life time license for the version you buy without any annual payments
HD Falling Money Wallpaper
If you want to decorate your Windows 10 desktop with picture of falling money underwater, just right-click on the link below and select "Set As Wallpaper" from the drop-down menu.
3D Falling Money Wallpaper
Customers Who Bought Money Screen Savers Software Also Bought